30 Retirement Gift Ideas For Men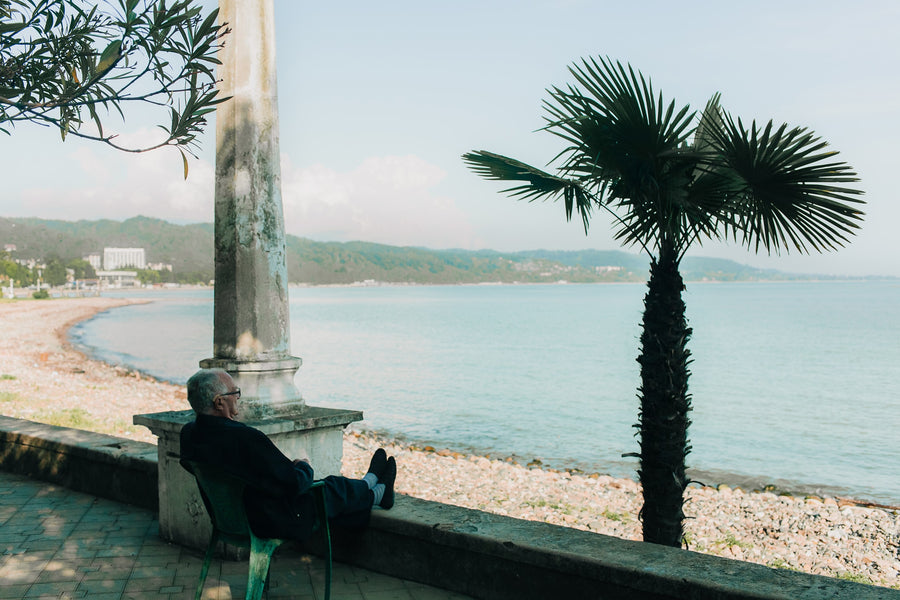 If someone you know is retiring, it is customary to buy them a retirement gift. However, it can be difficult to know where to start. This is especially the case if this person is your colleague and you're not familiar with what he enjoys doing outside of the workplace.
The last thing you want to do is purchase a cliched gift that everyone else has bought. You want to buy something that is going to show that you have put some thought and effort into it. At the same time, you don't want to go so far outside of the box that you end up purchasing something that gets no use. It is all about striking that difficult balance.
With that being said, in this blog post, we are going to take a look at 30 of the best retirement gift ideas for men to help you find something suitable. From unique retirement gifts to personalized happy retirement gifts we are sure you will be able to find something that's right for the person that is retiring from all of the different options below!
---
 
1. Cut Crystal Whisky Tumblers
If you are looking for an elegant and graceful gift for a sophisticated gentleman in his retirement, you can't go wrong with these Cut Crystal Whisky Tumblers. After all, who wouldn't want to enjoy a nice glass of whisky to celebrate their retirement? You can add a personal touch by having the whisky tumblers engraved. There are five different line for engraving, so the options are endless. You could add their retirement date for example or the dates that they have been at the company if they have worked their for a long amount of time. You may want to add a saying or you could even add an inside joke! The tumblers are presented in an attractive satin lined box, so you don't need to worry about gift wrap!
---

2. Frozen Cocktail Machine
If the man that is retiring is more of a cocktail fan than a whisky drinker, why not go for this Frozen Cocktail Machine as well? After all, without work to worry about, who wouldn't want to make a Margarita or Mojito at 10 am on the morning? Of course, we're not suggesting this becomes a daily occurrence! However, retiring can have that holiday feel in the beginning; well, it's a constant holiday, and who doesn't enjoy a fruity and refreshing cocktail while they are on holiday? Plus, while being a cocktail maker by name, this can easily be used for a whole host of other creations; from smoothies to soups!
---

3. Personalized Three Watch Box Classic
Time to move away from the alcohol… we will come back to it later, promise! However, if you are looking for a retirement gift for a man who likes to dress sharp and has a good collection of watches, this personalised leather classic watch box is ideal. Not only does the box have a sleek and sophisticated appearance but it is a gift that is assured to surprise the recipient and you can be sure that no one else will have thought of it. Boasting a simple yet elegant decision; this leather box has a soft beveled edge and an internal magnet that keeps the lid shut. You can choose between a plain or embossed box, and you can also add your own personalisation too. 
---

4. Vintage Bordeaux Wine & Newspaper
We have covered whisky and cocktails, so now it is time for a gift suggestion for those men who like a good bottle of red wine. Not only does this Vintage Bordeaux Wine & Newspaper set come with an aged bottle of wine but it also comes with an original newspaper from the date of your choice. You can choose a date that is significant to the person in question, for example, the date they first started work or the date of their first promotion. The newspapers go all the way back to the 1900s, so you should have no problem choosing something suitable! This gift set is presented in a stylish satin gift box for the perfect finishing touch.
---

5. Inflatable Zimmer Frame 
If you are looking for a gift that is going to make the recipient laugh, why not go for an inflatable zimmer frame? During a time that is undoubtedly going to be very sentimental and emotional, a gift that will make someone laugh is always welcomed. Plus, this is also a great gift if you do not have a big budget to work with. You won't have to part with more than £10 and you will definitely have one of the most memorable gifts.
---

6. Vineyard Tour and Tasting with Lunch or Afternoon Tea for Two
Experience gifts always come highly recommended. After all, is there any better gift than a memory you can cherish for the rest of your life? This sort of gift is going to be even more welcomed when you consider that the recipient is going to have a lot of spare time on their hands. With this Vineyard Tour and Tasting Lunch or Afternoon Tea, the person you are buying for will be able to see how wine is made from start to finish. Plus, they can choose from a wide range of locations across the UK, meaning they can easily choose somewhere local or they could opt to make a weekend of it and incorporate it into a trip elsewhere.
---

7. Dartington Crystal Curve Clock
Another option is to get the person who is retiring something stylish for their home. This crystal curve clock is guaranteed to impress. No matter what style of home the person has, you can be sure that this will add some style and luxury to the room in which it is placed. It features Roman numerals and silver-coloured workings. It can be engraved if you want to add an extra special touch. Plus, it is presented in a gorgeous silk gift box too.
---

8. Personalized Map Leather Wine Cooler
This is another unique gift that is sure to impress. It is a stainless steel wine cooler, which is wrapped in leather that is printed with a bespoke vintage map design. You can choose from three different map options. This includes a close-up detailed monochrome map, which dates 1907, as well as a darker more antique map dating back to 1895, and finally a colourful map that is dated 1960. All three maps are beautiful and no matter what option you go for, the map can be personalised with any location in the world. However, it is worth pointing out that the international maps do not show as much detail as the UK maps, which are focused on major cities.
---

9. Personalized Leather Golf Card Holder
If you know someone who is going to be playing a lot of golf in his retirement, this is definitely the sort of gift that you should be considering. This is an eco-friendly leather golf card holder, which can be personalised using embossing. The golf card holder itself comes in three different colours; chestnut tan, dark chocolate brown, and night black. You can then opt for the embossing to be printed in a specific colour if you wish too, for example, gold or silver. There are many different ways you could personalise this gift. Of course, you could go for the "Happy Retirement" approach or you may decide to go for something golf-related, for example, the person's golf club.
---

10. Personalized Hip Flask 
If you still haven't found the ideal gift for the person that is coming up to their retirement, why not opt for a personalised hip flask? This is an extremely sleek and stylish set, which will feature the person's initials. You can choose from brown, black, or tan leather. It is worth pointing out that you can only have five characters max for the initials, and this includes any '.' so make sure that you incorporate those when placing an order, otherwise they will not be automatically incorporated.
---

11. Engraved Golf Putter
This is another gift for a golf fan, which let's face it; most people become in their retirement! They will be impressed upon opening this gift but they will be even more amazed when they look at the bottom of the putter and see that it is engraved. With this gift, you can include your own personal message, either in italics or regular script, with up to 38 characters. This is split up into two lines, so you have a maximum of 19 characters per line. That's more than enough room to wish someone a happy retirement or to include any sort of quote or engraving you wish. However, it is worth pointing out that this is no good for anyone who is left-handed, so you may want to go back to the golf card holder if that is the case!
---

12. Dartington Crystal Personalized Pair of Glitz Highball Glasses
If the person you are buying for does not drink whisky, the whisky tumblers probably aren't going to be suitable. However, this does not mean you cannot go for the option of personalised glassware. How about highball glasses instead?
---

13. Year Edition - Newspaper Book 
Newspapers capture a moment in history, and retiring is exactly that. With this gift, you can choose to have a national newspaper recreated from any date of your choice. You can go all the way back to 1900, so you really won't struggle to choose an appropriate date. You could opt for a date that is special to the person in question or you could go for a date that is important because it is a special time in history. You can choose from a green leatherette cover or you can opt for a black luxury leather cover. Plus, an added touch of luxury presents itself via the gold embossing on the front.
---

14. Retirement Sundial
For something really unique and beautiful, a retirement sundial is a great choice. Not only is it a bit humorous, as it states goodbye tension and hello pension, but the decision is absolutely stunning!
---

15. Personalized Prosecco & Chocolates Gift Set
You can't fail with prosecco and chocolate, can you? Who doesn't love some creamy chocolate and some bubbles to go with it?
---

16. Personalized Carafe
If the person you are buying for is going to be getting a lot of nice bottles of wine from other people, why not buy a carafe instead? This will ensure they always have something nice to hold the wine in. Plus, you can personalise the carafe so that you can include a lovely message.
---

17. Hilton Hotel Gift Card
If you like the sound of an experience gift yet you are not quite sure what sort of experience the person in question would enjoy, why not go for a Hilton gift card instead? There are Hilton hotels all over the world. In fact, it seems that every city has a Hilton hotel or several, so you leave it up to the recipient to determine whereabouts they are going to stay. Plus, Hilton is a brand that is known for quality and held in high regard, so you will definitely impress.
---

18. Engraved Cross Ballpoint Pen
If you are looking for something classy and sophisticated, an engraved ballpoint pen certainly ticks that box! This is a good gift if you know the person likes to fill in crosswords and puzzles and so they will be doing a lot of this in their spare time now they don't have work to worry about!
---

19. Build A Porsche Carrera Racing Engine
You may not be able to buy the person in question a Porsche. And, they may not be able to buy themselves one to enjoy in retirement either. But all hope is not lost! How about a build a Porsche racing engine instead? This is another fun and unique gift that no one else will have thought of and it is great for any petrol heads.
---

20. Personalized Cafetiere
There have been a lot of alcohol gifts so far, but we know that not everyone likes a cocktail or a whisky. Fear not; we have just the thing for coffee lovers too. If you have regularly caught the person retiring in the kitchen getting their daily dose of coffee, then you are going to love this option. Not only is this cafetiere of a high quality and will enable the person you are buying for to brew their perfect cup of coffee but it can also be engraved. You can add a message of your choice so that there is a unique and personal touch. Plus, it holds up to four cups of coffee, so that should be enough to keep them going throughout the morning at least!
---

21. Scratch-Off Bucket List
This is a really fun and unique gift that celebrates everything that retirement should be about; doing those things that you have always wanted to do but never been able to because pesky work has gotten in the way. When you do not have a boss breathing down your neck anymore, progress can be difficult to track. This is why this bucket list scratch off chart is ideal. It enables you to incorporate 100 different thing to do, which you will, of course, scratch off as completed. This can be tailored to suit the person in question. If you know they are going to be doing lavish things and travelling around the world, you can add those high flying bucket list items. However, if this does not really sound like the person that is retiring, why not set them individual challenges? This could be fun things for them to do in their retirement, from changing something in the garden to going somewhere local for a fun day out. You can even make it a funny challenge, with 100 humorous things to do. The options are endless. It all depends on the person you are buying for and how well you know them.
---

22. Engraved Pocket Watch
If you have reached number 22 and you've still not found the perfect gift, don't worry; we have plenty of unique suggestions left to come. How about buying the man who is retiring a touch of refinement? This pocket watch is only £24.99, so it is a great choice if you are looking to purchase something special and unique and you don't have a large budget to spend. It comes with a safety chain and it measures 4.8 x 1.2 x 7.7 cm. You can personalise it with any message too. As you have probably gathered, personalised retirement gifts work really well. They give you the opportunity to add your own personal touch during a period whereby a lot of people are likely to be buying gifts for the person in question. Plus, they enable you to add your own special words and to wish the person in question a happy retirement in your own way. Perhaps you have something funny you would like to say, for example? With this gift, you will be able to add up to 50 letters, so you will need to keep your message short and sweet but it is still more than enough room for you to say something unique.
---

23. Golfers Grilling Tool Set
For keen golfers who also love a good summer bbq, look no further than this fantastic golfers grilling tool set. All the grilling tools are stainless steel and feature black rubber hand grips, identical to real golf clubs!
---

24. Personalized Retirement Word Art
Word Art is bang on trend at the moment, and so you can be sure that the person you are buying for will enjoy hanging this piece of art in their home. It is a great gift if you are buying for a person that seems to have everything. Plus, the personalised aspect of it enables you to add that extra special touch to show the person that you have put in some extra thought and gone that extra mile to make them feel appreciated. You can incorporate anything from around 35 words to 80 words, so you really can add plenty of different words and phrases that mean something to the person that is retiring. This could be phrases and words relating to the business they work for. It can also be phrases and words relating to what the person is going to enjoy in their retirement, whether this is relaxing on holiday or lots of golf.
---

25. Personalized Infinity Cufflinks
If you are buying for someone you do not know particularly well or you are really struggling to think of a gift that will impress, you can never fail with cufflinks. These cufflinks are reasonably priced and they are designed in the shape of the infinity sign. This is a great way to show your eternal appreciation for someone; showing them that you will always appreciate what they have done in the workplace if they are a colleague or that you will always love them if you are buying for a partner or a family member. You can choose from silver or silver and rose gold. Plus, you can personalise the lid if you would like to add your own little message in order to make the gift that extra bit special. With the sleek and stylish design of these cufflinks, you can be certain that they will impress any sort of man you are buying for.
---

26. 30 Minute Flying Lesson
As mentioned earlier, experience gifts always go down a treat, and what better experience than flying a plane? That is right; thanks to Virgin Experiences you can give someone the gift of taking over the wheel and flying high. There is no better way to make yourself feel alive while the dread of old age and retirement looms! This sort of adrenaline lift is like no other, and you can be sure that you will blow all other retirement gifts out of the park. Plus, if your loved one decides that he wants to become a pilot after retirement (you never know), then this will all count towards a Private Pilot's Licence too. There are a number of different locations to choose from throughout the country, and this comes with an experience gift pack, which includes a message care and a personalised voucher. Just make sure the person you are buying for isn't afraid of heights or planes!
---

27. Three Course Sunday Lunch for Two at the Michelin-Starred Ritz Restaurant
If you are looking to treat someone to something special that they can enjoy with a loved one (or even you if you are lucky!), why not opt for this fancy three-course meal at the Ritz restaurant? The Ritz is a restaurant that does not need any introduction and so you can be sure that it will impress from the moment the person opens the gift. Not only does it have two Michelin stars but it is renowned worldwide.  Situated in the heart of London, this is a dining experience that anyone can appreciate. The 5* hotel attracts people from all over the world, including the rich and famous, so give your friend, colleague or loved one the retirement gift they deserve. This iconic restaurant features lavish decor, soft lighting, grand velvet curtains, crystal chandeliers, and service of the highest standard. This gift comes as a voucher for two, which is presented in The Ritz signature gift box, and so you do not need to worry about how to wrap it up or present it. The gift incorporates a three-course Sunday luncheon, with a selection of dishes, and service will be included too, so your recipient doesn't have to worry about a thing.
---

28. Rocking Deck Chair Rhubarb Or Peppermint Stripe
If there is one thing that people have a lot of when they retire is time - a lot of time to do nothing! And, what better way to do nothing than to relax on a rocking deck chair? This is a stylish and comfortable chair. You can choose from peppermint or rhubarb.
---

29. Automatic Beer Brewing System 
Earlier, we brought you the option of a cocktail maker. However, if the person that is retiring is more of a beer fan, why not purchase them this automatic beer brewing system? Brewing beer sounds like a lot of fun, doesn't it? Well, if you ask anyone that has tried it, they will tell you that the idea of it is more fun than the reality of it. This is because it takes a lot of boring babysitting and a lot of cleaning too. This is why you should be better off buying an automatic brewing system that can do all of the hard work for the recipient.
---

30. Personalized Map Art Poster
Last but by no means least, we have a Personalized Map Art Poster. This is one of the most unique gifts you can find, and you can rest assured that no one else will have thought to purchase something like this. When making this gift, you will set the map location. You do this by simply typing in a city or town, and then you can fine tune using the zoom level. This means you have complete control over the location include and how much of the area is included. You can then select a map colour and layout and you will have a whole host of size and frame options too. You also have the option of adding labels, although this is not a requirement - the choice is yours. This is a great gift if you want to purchase someone something unique that they can place in their home and enjoy throughout their retirement. 
So there you have it: there are so many different options out there when you are looking for retirement gifts for men. From personalized retirement gifts to novelty retirement gifts; there are so many different options to choose from, and so you are bound to find something that fits in with your budget and is appropriate for the person that is retiring.
Never miss a
story
from us, get weekly updates in your inbox.
Get Updates